Gold Sequins for New Years Eve Wedding in New Zealand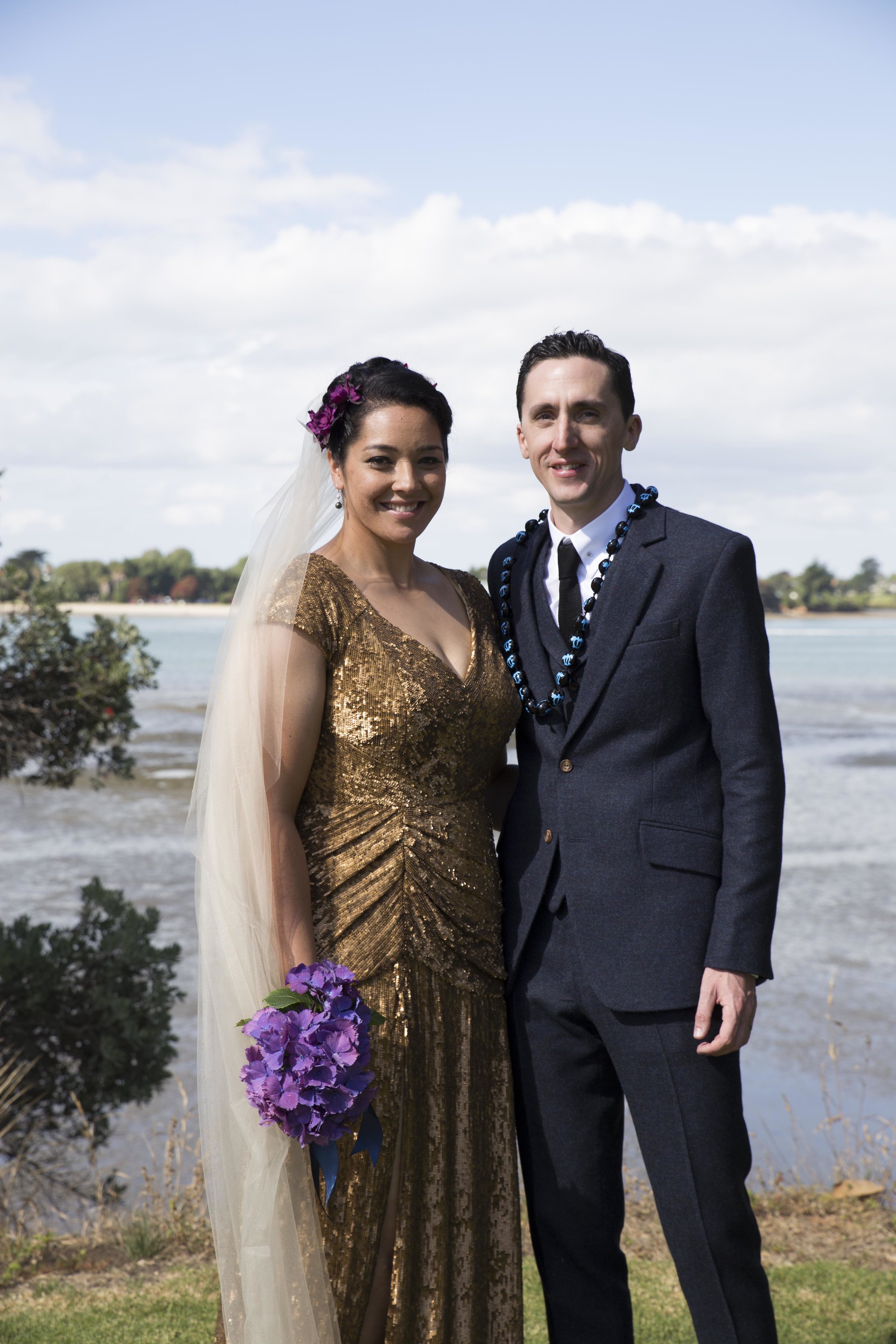 Introducing Cheyne, the most awesome bride, beautiful, smiley, upbeat and kind-hearted. At first, her wedding dress dreams were nearly thwarted by rude wedding boutique shop staff (lone rangers I'm sure!) before coming to find me.
A clear vision of a golden sequined dress for the golden sunshine of New Zealand where she was to be wed.
The fabric chosen was commissioned and provided, at somewhat short notice, by The Silk Society on Berwick Street, London. A textured cupped sequin bronze/gold sequin sewn in dense rows on a strong chiffon base.
Knowing that there would be a 'stripe' to the fabric, we factored this into the design, with subtle, but (I think) necessary pattern cutting, creating diagonal cross sections at the waist of the body - meaning that the sequins dissect the body at different angles, which is subtly flattering and interesting.
Since the sequin design was based onto chiffon which is not strong enough to hold a sculpted shape on it's own - we were always going to have to base it on a stronger silk - so we may as well have fun with it! The sleeves were a simple, but effective capped shape.
Cheyne asked for a daring thigh split (actually, probably a genius idea in the New Zealand heat with a heavily sequined skirt). At the front hip, the sequined fabric was draped and pleated into the seam for extra texture and detail.
A small train gave more of a bridal feel to the dress (though not so big that it was heavy to carry around - on account of the heavy sequinage). As an added 'bridal feature', Cheynes mum was keen for her to wear a veil. Being unsure if a traditional ivory veil would be too stark, I found a golden champagne coloured veil fabric, and made a simple, long and straight cut veil.
Although - a quick note for brides wanting to stray away from traditional white and Ivory colours: A lot of brides ask me "will I still look like a bride if I wear colour?", and my answer is always "Yes!!!" - because you are the bride, and without getting too silly and whimsical - on your wedding day you will have a little extra special smile and a glow that always transforms you into the bride!

I love Cheyne's combination of the purple and pink flowers in her hair and bouquet, they work so wonderfully with the gold of the dress.
Seeing Cheyne with her husband Richard in her wedding photo's is really lovely, with each meeting I could see Cheyne's excitement building, and her wanting to share all the fun stuff with Richard as she usually would (except the dress stuff was a secret to keep!). I hope he loved it as much as I loved creating it!